Click Here to Order Seinfeld DVD's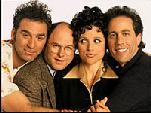 at Rock Bottom Prices !
Seinfeld History
Seinfeld is unquestionably the most popular sitcom series ever viewed on television. Moreover, it was one of the most successful TV shows of all time (regardless of genre). A total of 180 episodes spanning 9 NBC seasons, were made from the years 1989 (the initial pilot) to its final episode in 1998. To this day, the Seinfeld episodes can be seen around the world in syndication, and are still enjoyed by millions.
The Seinfeld series was created by its star, Jerry Seinfeld, and writer Larry David. The premise of the show focused on the daily life of a New York stand-up comic, named Jerry Seinfeld. Jerry was a highly intelligent, immature, and obsessed, individual that focused his whole life on trivial and meaningless details. His friends, and similar cast of characters, included Elaine Benes (his ex-girlfriend), Cosmo Kramer (his neighbor, just known as "Kramer"), and his long-time high-school buddy, George Costanza. Together, these 4 characters had many entertaining adventures in a myriad of broken relationships, nutty inter-personal encounters, and non-flowing, comedic trivial matters. Seinfeld is routinely described as "a show about nothing".
Despite all of its success and accolades, the Seinfeld sitcom came close to not being renewed after it aired its premier epsode, "The Seinfeld Chronicles", in 1989. Many critics considered the show too urban and too Jewish to appeal to the average American. However, in 1990, Seinfeld was selected to replace the long-standing and popular comedy "Cheers", in its timeslot. "Seinfeld" (renamed) came back in 1991 as a mid-season replacement, and emerged as a major force on NBC's programming schedule.
In 1997, Jerry Seinfeld announced that the following season (1998) would be the last season for the show. Although many were shocked by this decision, Seinfeld wanted the series "to go out in style", and to end the show while it was still popular and tops in the ratings. The final episode, aired on 5/14/1998, had the largest number of viewers for any sitcom in the history of television, with more than 50,000,000 viewers.
NOTE: If you arrived directly at this page from a Search Engine, you may want to visit our entire Seinfeld Trivia and Information from the Famous Seinfeld Sitcom Series website, and our sister websites, Best Weight Loss Programs, Best Online Poker Sites, Best Online Casino Sites, Best Computer/Electronic/Office Products Sites, Best Online Matchmaker Sites, Best Money Market Rates, Google Adwords Business eBook, How to Maximize Traffic to your Website eBook, and Long Island Real Estate Central.
---
Seinfeld Trivia Site > Seinfeld History