Dear Friend/Neighbor/Customer,


Our Spring, 2006 Real Estate season is now in full gear, as buyer and seller interest has picked up from our winter levels. Early season cautiousness has turned into optimism for some, yet state-of-the-real-estate-market cautiousness still remains for others.
This is Doug Hayman's March, 2006

Real Estate Newsletter Edition.
In this Issue:
State of the Long Island Real Estate Market
Do I need a Real Estate Agent to Buy or Sell a home ?
Local Town Reference Guides
New Listing in Miller Place ($ 459,999)
New Listing in Shoreham ($ 829,000)
Use Your Computer To Find That Perfect Dream Home
Real Estate Services and Web Site
STATE OF THE LONG ISLAND REAL ESTATE MARKET
The good news is that all indications are that we will not have a crazy market, like we have experienced over the last several years, where buyers get into bidding wars on homes, and wind up paying above the list price of a home. Inventory levels have increased over last year, but the market is still moving along at a reasonable pace. The absence of a crazy market means several things:
Buyers have a bit more selection to chose from;
We will once again return to a more normal sales cycle - this benefits everyone involved;
Sellers will need to make sure that their house is priced right. Buyers are extremely informed people these days, and given that the market landscape is slightly tilting in favor of buyers, sellers' homes will need to be priced right to sell in this environment. Seller's prices should be based on COMPs for the area; not what other listings in the area are priced at. Price is determined purely by what has sold in your area over the last 6-9 months, not what you neighbor has his home for sale at currently.
Home prices are definitely not falling at this time, but there is definitely a notion of price stabilization. Interest rate creep is alarming some buyers, in that the cost of borrowing is starting to inch forward a bit. This will push some buyers into the market. This, coupled with higher inventory levels, will more than likely keep the housing market at a steady, more reasonable pace this year.
Here are some additional factors that everyone should consider before deciding whether to buy or sell this year:
Interest rates are still at historic lows, providing buyers with optimal purchasing power.
There is a demographic shift from west to east going on - i.e., from NYC and Nassau County to Suffolk County. This is due to the fact that you can purchase more house for the money in Suffolk County. This shift eastward could mean a continued strong market in Suffolk County for this upcoming year and beyond.
The new FED Chairman (Bernanske) bias, may be to react less abruptly to inflationary pressures, thus being Interest Rate-friendly. However, recent news indicates that we may still some additional interest rate increases this year.
Some buyers are looking to purchase a home, before any significant rate hike occurs. This creates demand.
Historically, over the long-term since World War II, the housing market has appreciated 5 % annually, year over year.
On Long Island, housing has appreciated at an average rate of 12.5 % over each of the last 5-6 years.
There have been many short-term housing dips year-over-year, since World War II.
If you are looking to buy a home and sell it within a couple of years, there is some inherent risk, in that your home could theoretically be worth less at the end of this period, due to a correction occurring.
If you are looking to buy a home and hold it for 5 or more years, you are minimizing the risk of any potential housing correction during that period, and your chances for equity gain are increased substantially.
Like the stock market, it is extremely hard to predict peaks and valleys in the housing market, and to time your buying and selling of a home at these points. A buy-and-long-term-hold strategy invariably results in positive equity gain over the long-term.
When a housing correction occurs, the more speculative homes (e.g., fix-me-uppers) tend to be adversely effected more by the correction, than non-speculative homes. Additionally, high-end homes generally tend to exhibit a slow-down as well during corrective times.
Historically low interest rates provide us with much greater (and cheaper) buying power. Future interest rate increases may result in lower housing prices, but the cost of borrowing would increase as well, which would result in higher mortgage payments, which may negate (or offset) any decrease in housing prices.
If you are looking to live in your home for many years to come, home ownership is definitely the way to go. Equity build-up, the tax advantages associated with home ownership (ability to deduct mortgage interest and property taxes), and the tangible aspect of owning your own home, are the major advantages to home ownership. Specifically, renters sometimes do not realize that they are paying top tax dollar to the Government, when they have no housing deductions. Owning a home, and having a healthy tax deduction, factors heavily into the equation of the advantages of home ownership versus renting. Even at today's high home prices, the tax advantages of home ownership are plentiful and advantageous.
DO I NEED A REAL ESTATE AGENT TO BUY OR SELL A HOME ?
You certainly didn't expect me to say "NO", did you ? Of course, you didn't ! The Real Estate industry has been around for well over 100 years, and for good reason. If real estate agents/brokers weren't needed, the industry would not have endured this long. The fact of the matter is, 85 % of all homes on Long Island are listed with Realtors, and of the other 15 % (For Sale By Owners), a sizable portion of them eventually wind up listing with a realtor as well.
Here are some good reason why you should consider using a realtor for your buying and selling needs:
Using a Realtor when Buying a Home
In 99 % of cases on Long Island, realtors always work for the Seller. Without getting into all the legal reasons behind this, the bottom line is that sellers are the ones that pay all commissions; not buyers. In rare exceptions, you may enter into a Buyer's Broker agreement with your agent when you are looking to buy a home, in which case you will pay the realtor a commission. In most cases, however, it will almost never cost you a dime to work with a realtor, if you are buying a home.
A Realtor has expertise in the field. He/she will know the market better than anyone, and will be able to impart that knowledge to you.
A Realtor on Long Island has access to the MLS database, and can set you up with customized pre-screening information sent to your Email account, which will allow you to preview homes in the comfort of your own home. Depending on the computer expertise of the Realtor, very powerful and customized search criteria can be set up for a given buyer, to assist in finding that perfect home.
Many Realtors have expertise in the financing arena. Although it is a conflict of interest for a Realtor to also be a mortgage banker or consultant, your realtor should be able to recommend at least 3 mortgage brokers/bankers, that can cater to your needs. Additionally, knowledgeable realtors should be able to enumerate on the types of financing plans that suit your needs.
A Realtor, upon request, should be able to furnish you with COMPs of homes that have sold in a given area, over the last 6-9 months, so that you can get an indication of whether a given home is priced right or not.
A Realtor will step you through the entire home purchasing process which includes such things as making an offer on a home and negotiating on your behalf, coordinating engineer inspection, appraisal, and termite inspection activities, providing pertinent information and direction in regard to local government zoning and C.O. permits, and providing checklists for closing activities on a home.
Using a Realtor when Selling a Home
Although 85 % of all sellers utilize a realtor for selling their home, 15 % do not initially. Almost all of these For-Sale-By-Owner (FSBO) sellers will cite the cost of commission as their reason for selling on their own.
There is a reason why most homes sell through a realtor. The commission charged by realtors covers things like full MLS (Multiple Listing Service) exposure (that is, every realtor on New York State can visibly see and sell this home). Compare this to the lack of visibility of a FSBO listing - only a local sign and local advertising of the owner will expose this home to the public. The cost of advertising in a periodical such as Newsday can be extremely expensive for a FSBO seller.
A realtor can sell a home a lot faster than a FSBO owner can. Time is money, and the saving of time saves cash. The cost of time includes having to pay additional months of mortgage and taxes, running the risk of interest rate rises, etc. For example, if your mortage and taxes amount to $ 4,000 per month, and a realtor can sell a home in 4 fewer months than a FSBO seller, the implicit cost to the FSBO seller would be an additional $ 16,000. FSBO sellers rarely take this type of logic into consideration.
Generally speaking, but not always, FSBO homes are not prices correctly, since sellers do not have accurate means for gauging home prices. Realtors are experts in this area, and have tools that can easily derive true market value.
Realtors can pre-qualify any buyer of a property. This is one of the biggest assets that a realtor can provide. Realtors can quickly disqualify buyers who are not in a position to be able to buy or afford the home in question. FSBO sellers do not have the tools to easily accomplish this. As a result, many FSBO sellers will enter into contract with a FSBO buyer, just to find out 2 months later that the buyer did not qualify for a mortgage. The FSBO seller has now wasted valuable "selling time", by entering into a financial arrangement with this type of buyer, and shutting himself/herself off from other potential buyers. Realtors provide a tremendous service by pre-screening and pre-qualifying potential buyers, to help streamline the sales process. Once again, this save considerable money !
Realtors are experts in showing homes, and know what things can be done to enhance the showing process.
Realtors provide a necessary buffer between buyer and seller, during negotiations of sale. Buyers and sellers tend to get very emotional often, when it comes to home purchase, and using an intermediary such as a Realtor has a positive effect over the entire process.
A realtor can provide many vehicles for advertising homes which include MLS advertising, other Internet source advertising, advertising in periodicals, sign advertising, and public and broker open houses. Additionally, many well-established brokerages such as Century 21, offer a very sophisticated nation-wide referral system, that caters to people looking to relocate to the area.
It is very important to distinguish between a full service brokerage (e.g., Century 21) and a discount brokerage. Usually, a discount brokerage will offer a lower commission, but will not offer any of the services listed above. More importantly, a discount brokerage very often creates a "selling broker commission" (this is the commission offered to the agent who brings the buyer into the equation) that is much less than the "listing broker commission" (this is the commission that goes to the listing agency, when a house sells). It is imperative that a realtor puts out the "selling broker commission" at an attractive enough rate, to entice other agents to sell the home. A low selling broker commission will discourage other agents from showing your house. Many discount brokerages feed off of this principle, and it is something that should be carefully considered. Approximately 90 % of home sales are "sold" by agents other than the listing agent -- this is the beauty of the MLS system -- you get to leverage off the work of any licensed agent. Why jeopardize your home sale by putting the seller's broker commission at an unreasonable percentage relative to the listing broker's commission ?
Finally, a realtor will do everything for you in regards to selling your home. There is nothing to worry about, as everything from soup-to-nuts will be handled by an expert. This can give you, the seller, piece of mind during this process.
LOCAL TOWN REFERENCE GUIDES
Starting this year, I have started assembling detailined reference guides for various Towns in Suffolk County. My website, which is noted at the bottom of this Newsletter, now contains a "Local Town Information" link that points to information about various towns. To date, I have completed detailed 7-page reference guides for the following towns, which are available by clicking on the following links, or visiting the same links on my website:
As we move forward in 2006, stay tuned for reference guides for other towns in Suffolk County, such as Shoreham, Wading River, Setauket, Stony Brook, Coram, Port Jefferson, and Port Jefferson Station.
NEW LISTING IN MILLER PLACE ($ 459,999)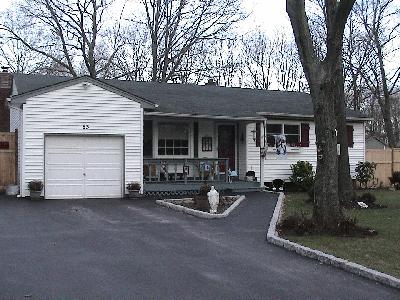 This new listing of mine is a totally remodeled diamond 3 Br Ranch, located north of 25A, in the prestigious Miller Place School District. The home is situated on .27 acres, is private and fenced, and is located in a secluded neighborhood. The house has been totally remodeled and includes the following amenities: new hardwood floors in the kitchen, hardwood floors throughout the rest of the house, Anderson windows throughout the house, newly painted rooms in entire house, new carpeting, Central Air Conditioning, upgraded 200 Amp electrical service, in-ground sprinklers, new fencing, new shed, new front door/storm door, new aattic fan, newly remodeled Kitchen, all new appliances, newly remodeled bathrooms, custom blinds, and much, much, more. The house is a true gem. 2006 Taxes of $ 8,236.61 are pre-STAR ($ 7,110.72 after standard STAR exemption).
The full MLS listing can be viewed at:
Miller Place Ranch
Further, if you would like to see a complete Slideshow presentation of this house (with a great musical background), please visit the following website, and click on the "Slideshow" link on this page:
If you are looking to move into a house, without having to do a thing, then this home is it !
NEW LISTING IN SHOREHAM ($ 829,000)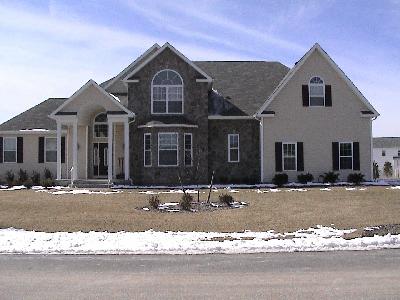 This new listing of mine is an immaculate and pristine Stratford model in the Country Manors development, located in the prestigious Shoreham/Wading River School District. It is a 5 Bedroom, 3.5 Bath post-modern classic. It has a huge 3,500 square foot living area, and is situated on 1 acre of land. It has an unbelievable upgraded kitchen which includes porcelain tiles, granite countertop, and upgraded appliances (including a double-oven). The house has cherry wood cabinets and hardwood floors throughout. This beautiful home also has a butler's pantry, maid quarters (this is the 5th bedroom) with full bath, has a luxurious master suite w/jacuzzi, 3 additional spacious bedrooms upstairs, a gas-based stone fireplace, upgraded moldings, dual oak staircases, a huge full basement with 12 foot wide walkout, 2 car garage, Central Air Conditioning, 2-zone heating, an 11-zone sprinkler system, a 14-zone alarm system, and meets the new New York State Energy Star requirements. Taxes for 2006 have been estimated by Brookhaven town to be about $ 14,000 pre-STAR.
The full MLS listing can be viewed at:
Shoreham Post Modern Classic
Further, if you would like to see a complete Slideshow presentation of this house (with a great musical background), please visit the following website, and click on the "Slideshow" link on this page:
If you are looking for an exquisite post-modern classic, with lots of house and property and a ton of upgrades, then this home is a must to check out ! In fact, we are having an Open House for this home on Sunday, March 19, 2006, from 1-3 PM. Please Email me or Call me (see below for details), for further information.
USE YOUR COMPUTER TO FIND THAT PERFECT DREAM HOME
As a Licensed Real Estate Agent in Miller Place, I can now offer my friends and neighbors a Special Service -- "Find that Perfect Dream Home On-Line". Simply click on the "Find your perfect dream home on-line" link on my personal Real Estate website (http://www.expss.com/RealEstate.htm) and fill out the requisite information, or alternatively reply to this Email with the following information:
Your Name
Your Email Address
Your Telephone Number (optionally)
Your Maximuum home purchase price
Your desired # of minimum bedrooms
Your desired # of minimum bathrooms
Your minimum lot size requirements
The list of towns that you are interested in
And any other special requirements that you may have
After receiving this information, I will automatically set up a FREE Prospect Match for you in the MLS Stratus database system. On a nightly basis, all homes that match your specific criteria will be Emailed to you, with full descriptions (much more detailed than what's available elsewhere on the Internet - e.g., MLSLI.COM) and pictures. That way, you can investigate the property, to see if it is to your liking before actually having me show it to you. When you see something you like on the Internet, then just give me a call, and I will be happy to show it to you ! It won't cost you any more to call me, since real estate commissions are paid directly by the seller, and are always split between any real estate agents involved. Now what better way is there to shop for that perfect dream home, than to do it on-line, in the privacy of your own home !
I must say, that my current Customer base absolutely loves this feature. They have found it to be extremely flexible, detailed, and convenient, to say the least. I have helped several of my customers land home purchases, as a direct result of this extremely focused technology. Those who don't have computers, or who aren't on the Internet, truly don't know what they are missing.
REAL ESTATE SERVICES AND WEB SITE
To showcase more of my services, I have designed a free Internet web site (http://www.expss.com/RealEstate.htm) which contains a wealth of valuable Real Estate information that you can utilize at any time, whether you are a buyer, a seller, or are just interested in Real Estate. I strongly recommend that each of you view it and utilize its capabilities.

Additionally, I offer a free CMA (Comparative Market Analysis) service to determine what your home is currently worth in today's market, if you are considering to sell. If you are contemplating purchasing a home, please contact me, and I'll make sure I disseminate information to you about the areas that you are considering.
Should you or anyone that you know require my Real Estate services, please do not hesitate to contact me at any time, by telephone or via Email. I look forward to serving your for all of your Real Estate needs this Spring and beyond.


Best Regards,

Douglas R. Hayman
NYS Licensed Real Estate Agent
Century 21 Rustic Realty
765 Route 25A
Miller Place, NY 11764
Work: 631-744-5300 x213
Fax: 631-744-5403
Cell: 631-902-1478
Email:
Web: http://www.expss.com/RealEstate.htm

P.S. Reciprocally, please do not hesitate to send or email me your business card for referrals.

--------------------------------------------------------------------------------------------------------------------------------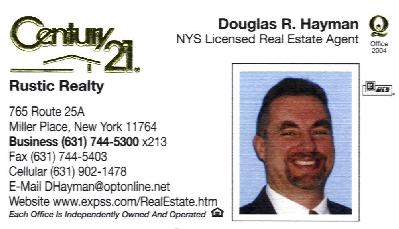 NOTE:

IN COMPLIANCE WITH THE CAN-SPAM ACT OF 2003, IF YOU WOULD LIKE TO BE REMOVED FROM THIS MAILING LIST IMMEDIATELY, PLEASE CLICK HERE.