Dear Friend/Neighbor/Customer,


We are now at the beginning of our Spring Real Estate season, and the level of activity from buyers, sellers, and investors has picked up dramatically from our winter months. Early season cautiousness is beginning to turn into optimism and decisive actions by many, booned by several key factors explored in this Newsletter.
This is Doug Hayman's February, 2006

Real Estate Newsletter Edition.
In this Issue:
Newsday is Bullish on the Long Island Real Estate Market
Everything you Wanted to Know about STAR, but were Afraid to Ask
Local Town Reference Guides
New Listing in Miller Place ($ 459,999)
Find That Perfect Dream Home
Real Estate Services and Web Site
NEWSDAY IS BULLISH ON THE LONG ISLAND REAL ESTATE MARKET
We have all heard it on the news recently -- the bubble is going to burst, home prices will plummet, and the sky is falling ! Granted we have had 5 to 6 years in a row of solid real estate appreciation (to the annualized tune of 12 % to 13 %), and many feel we are due for a correction. Although correction, slowdown, or adjustment is inevitable at some point, Newsday recently came out with an article in its 1/22/2006 Sunday edition, that proclaims that Long Island Real Estate is actually in a historically safe position currently.
Newsday's justification for its position was based on the following:
25 years of Long Island sales data analysis.
Although the housing market is softening a bit, prices are still rising, and there is little evidence of a glut.
The Economic trends point to a relatively harmless landing, without a huge dropoff.
The supply of homes on the market is nowhere near the levels seen during the last corrective period (1990-1991).
The worst year-over-year decline during the analysis was between 7 % and 8 % in 1990, but the economy was much different back then. Long Island's job economy was weaker and less diversified and interest rates were much higher than they are currently. Further, the supply of homes on the market were much greater in the worst period analyzed - the early 1990's.
Overall, Newsday's supposition was one of optimism for the upcoming year in real estate. Read the entire Newsday article at:
Here are some additional factors that everyone should consider before deciding whether to buy or sell this year:
Interest rates are still at historic lows, providing buyers with optimal purchasing power.
There is a demographic shift from west to east going on - i.e., from NYC and Nassau County to Suffolk County. This is due to the fact that you can purchase more house for the money in Suffolk County. This shift eastward could mean a continued strong market in Suffolk County for this upcoming year and beyond.
The new FED Chairman bias, may be to react less abruptly to inflationary pressures, thus being Interest Rate-friendly.
Some buyers are looking to purchase a home, before any significant rate hike occurs. This creates demand.
Historically, over the long-term since World War II, the housing market has appreciated 5 % annually, year over year.
On Long Island, housing has appreciated at an average rate of 12.5 % over each of the last 5-6 years.
There have been many short-term housing dips year-over-year, since World War II.
If you are looking to buy a home and sell it within a couple of years, there is some inherent risk, in that your home could theoretically be worth less at the end of this period, due to a correction occurring.
If you are looking to buy a home and hold it for 5 or more years, you are minimizing the risk of any potential housing correction during that period, and your chances for equity gain are increased substantially.
Like the stock market, it is extremely hard to predict peaks and valleys in the housing market, and to time your buying and selling of a home at these points. A buy-and-long-term-hold strategy invariably results in positive equity gain over the long-term.
When a housing correction occurs, the more speculative homes (e.g., fix-me-uppers) tend to be adversely effected more by the correction, than non-speculative homes.
Historically low interest rates provide us with much greater (and cheaper) buying power. Future interest rate increases may result in lower housing prices, but the cost of borrowing would increase as well, which would result in higher mortgage payments, which may negate (or offset) any decrease in housing prices.
If you are looking to live in your home for many years to come, home ownership is definitely the way to go. Equity build-up, the tax advantages associated with home ownership (ability to deduct mortgage interest and property taxes), and the tangible aspect of owning your own home, are the major advantages to home ownership. Specifically, renters sometimes do not realize that they are paying top tax dollar to the Government, when they have no housing deductions. Owning a home, and having a healthy tax deduction, factors heavily into the equation of the advantages of home ownership versus renting. Even at today's high home prices, the tax advantages of home ownership are plentiful and advantageous.
EVERYTHING YOU WANTED TO KNOW ABOUT STAR, BUT WERE AFRAID TO ASK
STAR is Governor George E. Pataki's School Tax Relief Program that provides a partial exemption from school property taxes. All New Yorkers who own and live in their one-, two-, or three-family home, condominium, cooperative apartment, manufactured home, or farm dwelling are eligible for a STAR exemption on their PRIMARY residence only.
There are two parts to the STAR program:
The Basic STAR exemption is available for owner-occupied, primary residences regardless of the owners' ages or incomes. Basic STAR works by exempting the first $30,000 of the full value of a home from school taxes.
The Enhanced STAR exemption is available for the primary residences of senior citizens (age 65 and older) with yearly household incomes not exceeding the statewide standard. For qualifying senior citizens, the Enhanced STAR program works by exempting the first $50,000 of the full value of their home from school property taxes. For property owned by a husband and wife, or by siblings, only one of them must be at least 65 years of age as of December 31 of the year in which the exemption will begin to qualify for the Enhanced exemption. Their combined annual income, however, must not exceed the STAR income standard.
You must file an application with your local assessor. Property owners who are granted the Basic STAR exemption generally will not need to reapply in subsequent years because the Basic STAR exemption is granted regardless of income. However, Basic STAR recipients will need to notify their assessor if their primary residence changes.
STAR applications are available from your local assessor or on the internet at http://www.orps.state.ny.us/star/star_forms.cfm
New York State does NOT automatically give you the STAR exemption. You must apply for it, to actually recognize the reduction in taxes !
LOCAL TOWN REFERENCE GUIDES
Beginning in 2006, I have started assembling detailined reference guides for various Towns in Suffolk County. My website, which is noted at the bottom of this Newsletter, now contains a "Local Town Information" link that points to information about various towns. To date, I have completed detailed 7-page reference guides for the following towns, which are available by clicking on the following links, or visiting the same links on my website:
As we move forward in 2006, stay tuned for reference guides for other towns in Suffolk County.
NEW LISTING IN MILLER PLACE ($ 459,999)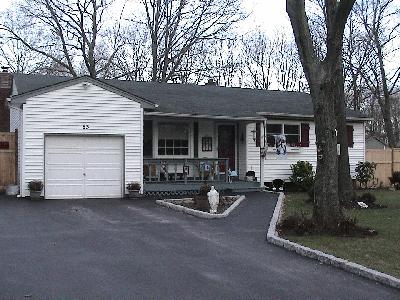 This new listing of mine is a totally remodeled diamond 3 Br Ranch, located north of 25A, in the prestigious Miller Place School District. The home is situated on .27 acres, is private and fenced, and is located in a secluded neighborhood. The house has been totally remodeled and includes the following amenities: new hardwood floors in the kitchen, hardwood floors throughout the rest of the house, Anderson windows throughout the house, newly painted rooms in entire house, new carpeting, Central Air Conditioning, upgraded 200 Amp electrical service, in-ground sprinklers, new fencing, new shed, new front door/storm door, new aattic fan, newly remodeled Kitchen, all new appliances, newly remodeled bathrooms, custom blinds, and much, much, more. The house is a true gem. 2006 Taxes of $ 8,236.61 are pre-STAR ($ 7,110.72 after standard STAR exemption).
The full MLS listing can be viewed at:
Miller Place Ranch
Further, if you would like to see a complete Slideshow presentation of this house (with a great musical background), please visit the following website, and click on the "Slideshow" link on this page:
If you are looking to move into a house, without having to do a thing, then this home is it !
FIND THAT PERFECT DREAM HOME
As a Licensed Real Estate Agent in Miller Place, I can now offer my friends and neighbors a Special Service -- "Find that Perfect Dream Home On-Line". Simply click on the "Find your perfect dream home on-line" link on my personal Real Estate website (http://www.expss.com/RealEstate.htm) and fill out the requisite information, or alternatively reply to this Email with the following information:
Your Name
Your Email Address
Your Telephone Number (optionally)
Your Maximuum home purchase price
Your desired # of minimum bedrooms
Your desired # of minimum bathrooms
Your minimum lot size requirements
The list of towns that you are interested in
And any other special requirements that you may have
After receiving this information, I will automatically set up a FREE Prospect Match for you in the MLS Stratus database system. On a nightly basis, all homes that match your specific criteria will be Emailed to you, with full descriptions (much more detailed than what's available elsewhere on the Internet - e.g., MLSLI.COM) and pictures. That way, you can investigate the property, to see if it is to your liking before actually having me show it to you. When you see something you like on the Internet, then just give me a call, and I will be happy to show it to you ! It won't cost you any more to call me, since real estate commissions are paid directly by the seller, and are always split between any real estate agents involved. Now what better way is there to shop for that perfect dream home, than to do it on-line, in the privacy of your own home !
I must say, that my current Customer base absolutely loves this feature. They have found it to be extremely flexible, detailed, and convenient, to say the least. I have helped several of my customers land home purchases, as a direct result of this extremely focused technology. Those who don't have computers, or who aren't on the Internet, truly don't know what they are missing.
REAL ESTATE SERVICES AND WEB SITE
To showcase more of my services, I have designed a free Internet web site (http://www.expss.com/RealEstate.htm) which contains a wealth of valuable Real Estate information that you can utilize at any time, whether you are a buyer, a seller, or are just interested in Real Estate. I strongly recommend that each of you view it and utilize its capabilities.

Additionally, I offer a free CMA (Comparative Market Analysis) service to determine what your home is currently worth in today's market, if you are considering to sell. If you are contemplating purchasing a home, please contact me, and I'll make sure I disseminate information to you about the areas that you are considering.
Should you or anyone that you know require my Real Estate services, please do not hesitate to contact me at any time, by telephone or via Email. I look forward to serving your for all of your Real Estate needs this Spring and beyond.


Best Regards,

Douglas R. Hayman
NYS Licensed Real Estate Agent
Century 21 Rustic Realty
765 Route 25A
Miller Place, NY 11764
Work: 631-744-5300 x213
Fax: 631-744-5403
Cell: 631-902-1478
Email:
Web: http://www.expss.com/RealEstate.htm

P.S. Reciprocally, please do not hesitate to send or email me your business card for referrals.

--------------------------------------------------------------------------------------------------------------------------------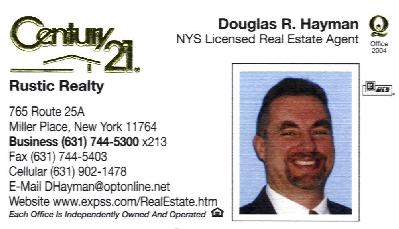 NOTE:

IN COMPLIANCE WITH THE CAN-SPAM ACT OF 2003, IF YOU WOULD LIKE TO BE REMOVED FROM THIS MAILING LIST IMMEDIATELY, PLEASE CLICK HERE.