2002-2003 SEAWOLVES MEN'S BASKETBALL COACHING STAFF


HEAD COACH Nick Macarchuk -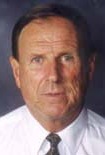 Highlights of Coach Macarchuk's Coaching Experience include:
Macarchuk is in his 26th year as a Division 1 Basketball coach.
Macarchuk was 6-23 in his first year as head coach of the Seawolves, in the 1999-00 campaign.
Macarchuk led an improbable 2nd year turnaround in the 2000-01 campaign, by posting an impressive 17-11 record. Macarchuk was named the Independent Conference Coach of the Year for his efforts.
A young 2001-02 Seawolves squad posted a 3rd year 6-22 record for Coach Macarchuk.
Nick Macarchuk came to Stony Brook with 22 years of Division I coaching experience, accumulating 310 career wins and five postseason appearances in his 22 seasons as a head coach. On June 10, 1999, he became the ninth coach in Stony Brook men's basketball history.
Macarchuck brings a wealth of experience to the Seawolves' sideline having established himself as one of the most successful and well-respected coaches in college basketball. Over the last 12 years, he has guided Fordham to three NIT bids (1988, 1990, 1991) and a trip to the NCAA tournament in 1992.
Macarchuck began his coaching career at St. Thomas More Preparatory School where he compiled a nine-year record of 155-48 and led his team to three New England Prep School Championships (1969, 1970, 1970). He coached many collegiate players, including Providence College All-American Ernie DiGregorio, during his stay at St. Thomas More.
His success at St. Thomas More landed him a job on Dave Gavitt's staff as an assistant at Providence College in 1972. During the next five years, Marcarchuck was part of one of the great eras in New England college basketball history, as the Friars made NCAA Tournament apperances in 1973, 1974 and 1977. In 1973, Providence made it to the NCAA Final Four and finished in the Top 10 in both the 1973 and 1974 campaigns.
Following the 1977 season, Macarchuck left Providence to take over a struggling Canisius program. After posting a 9-17 record in his first season, he led the Golden Griffins to three straight near .500 finishes before a 19-8 breakthrough year in 1981-82. Over the next five years, the Golden Griffins averaged 17 wins a season, making it to the National Invitation Tournament in 1985, its first postseason appearance in 28 years. He compiled a 149-128 record in 10 seasons and coached four NBA draft picks. In 1990, he was inducted into the Canisius College Hall of Fame.
Macarchuck took over the Fordham program in 1987 after the school had suffered its first back-to-back losing seasons in 10 years. In his first season, the Rams went 18-15, making the Metro Atlantic Athletic Conference Tournament finals and qualifying for the NIT. Fordham's success continued in the upcoming years as they again went to the NIT in 1990 and won the inaugural Patriot League Championship in 1991 while advancing to the second round of the NIT. In 1992, the Rams repeated as Patriot League champs and advanced to the NCAA Tournament for the first time since 1970-71. The bid marked the first time in Macarchuck's career that his team qualified for the NCAA tournament.
In 1995, Fordham made the unprecedented move from the non-scholarship Patriot League to the Atlantic-10 Conference, one of the top eight basketball conferences in the country. Last year, Macarchuck led the Rams to a 12-15 record, its best mark since making the jump to the Atlantic-10, earning 1998-99 Atlantic-10 Coach of the Year honors for that performance.
His exploits on the court have earned Macarchuck numerous coaching honors. Among his awards are seven league or district "Coach of the Year" awards; three at Canisius and four at Fordham.
     Highlights of Coach Macarchuk's Playing Experience include:
A 1963 graduate of Fairfield University, the 6-4 foward was a two-time All-East selection (1962, 1963) with the Stags.
Macarchuk scored 1,217 points in just 73 games, while grabbing 942 rebounds.
Macarchuk still ranks 14th in scoring and third in rebounding in Fairfield basketball history.
The senior captain graduated with a business degree in 1963 and was later inducted into the Fairfield Hall of Fame in 1987.
     Highlights of Coach Macarchuk's Personal Life include:
Macarchuck is a native of Norwich, Connecticut.
He and his wife Patricia have three children: Nick III (an assistant coach at Stony Brook), Chris and Patrick.

ASSISTANT COACH Nick Macarchuk III -  

     Highlights of Assistant Coach Macarchuk's Coaching Experience include:
He began his coaching career at Rose Hill in 1988-89, and was part of the staff when the Rams made back-to-back NIT appearances in 1990 and 1991.
Nick Macarchuk III will begin his 4th season at Stony Brook, in the 2002-03 campaign, as a member of his father's staff. Macarchuck, a tenacious and energetic recruiter, handles a myriad of duties for the Seawolves including all facets of coaching, from game preparation to on-court coaching.
Macarchuk had two stints at Fordham during his father's tenure with the Rams.
Macarchuk spent three years as a part-time assistant before becoming a full-time assistant on the Marist staff under Dave Magarity.
After working for two years at Marist, Macarchuk returned to Fordham as a full-time assistant and was there for seven years.
     Highlights of Assistant Coach Macarchuk's Playing Experience include:
A 1988 graduate of Canisius College, Macarchuck was a four-year letterwinner, captaining the Golden Griffins in 1987-88, his senior year.
     Highlights of Assistant Coach Macarchuk's Personal Life include:
Nick and his wife Nicole, a graduate of Fordham and Fordham Law, Live in Tuckahoe, New York.
The couple has two children, Ashley Rebecca who is 6 years old and Nicholas IV, who was born on April 16, 1998.

ASSISTANT COACH Edgar De La Rosa -  

     Highlights of Assistant Coach De La Rosa's Coaching Experience include:
De La Rosa also came with Coach Macarchuk from Fordham, and will begin his 4th season with the Seawolves, in the 2002-03 campaign.
Edgar De La Rosa spent five years prior at Fordham as an assistant on Macarchuk's staff. Over the past five years, De La Rosa has assisted head coach Nick Macarchuck both on and off the court. He has aided the Rams in pre-game strategy as well as on-court coaching and has recruited the New York City area.
Prior to Fordham, De La Rosa was an assistant coach at Division III power New York University for five seasons. The Violets went all the way to the NCAA Division III Championship game in 1993-94, where they were defeated in overtime. De La Rosa was part of the 1992-93 and 1993-94 U.A.A. coaching Staffs of the Year.
Before his stint at NYU, De La Rosa was an assistant at Bishop Ford High School in Brooklyn, his alma mater, for three seasons.
De La Rosa also has international experience, having served as an assistant for the Dominican Republic National team and as the head coach of a junior team in the Dominican Republic.
De La Rosa also coaches the New York City team in the Empire State Games, leading the 1998 team to a golg medal, the 1996 and 1997 squads to silver medal and the 1995 to a bronze medal.
     Highlights of Assistant Coach De La Rosa's Playing Experience include:
As a player, De La Rosa captained St. Francis in 1981-82, and is the all-time free throw percentage and assists leader and he currently sits in second place on the Terriers' all-time steal list.
     Highlights of Assistant Coach De La Rosa's Personal Life include:
De La Rosa is a 1983 graduate of St. Francis (NY) College.
He and his wife, Myrna, have two children: Julian and Lauren, who are both 9.
They reside in Staten Island, New York.

ASSISTANT COACH Brian Blaney -  
     Highlights of Assistant Coach Blaney's Coaching Experience include:
Brian Blaney will begin his 4th year with the Seawolves in the 2002-03 campaign, and came to Stony Brook after spending the three prior years at George Washington University.
After graduating from Roanoke College, Blaney joined the men's basketball staff at Hargrave Military Academy for one season.
He joined the Colonials' staff after serving as an assistant coach at Miami (OH) during the 1995-96 season.
At George Washington University, Blaney also served as co-Director of GW's Summer basketball camp.
     Highlights of Assistant Coach Blaney's Playing Experience include:
A 1994 graduate of Roanoke College, Blaney played point guard for the Maroons from 1991-94.
As a senior, Blaney helped guide Roanoke to a 26-2 record and a berth in the 1994 NCAA Division III Tournament.
While at Roanoke, the team posted an impressive 61-19 record and was ranked as high as fourth nationally during his tenure there.
     Highlights of Assistant Coach Blaney's Personal Life include:
Blaney is a native of Holden, MA, and a son of former Seton Hall head coach George Blaney.
Blaney earned his bachelor's degree in sociology at Roanoke.