Dear Friend/Neighbor/Customer,


The Summer Real Estate season saw a very slight percentage decrease in activity, year-over-year, but aggregate sales still made new record highs. With Labor Day upon us, we are ready for an upswing in activity, which the Fall season traditionally brings. This may be the last hoorah for historically low interest rates, so now may be a good time to consider buying a home or selling your existing home.
This is Doug Hayman's September, 2005,

Real Estate Newsletter Edition.
In this Issue:
Is the Housing Bubble about to burst ?
Should I own or should I rent ?
Find That Perfect Dream Home
Real Estate Services and Web Site
IS THE HOUSING BUBBLE ABOUT TO BURST ?
One cannot help hearing all the talk about a housing bubble burst, in the news these days. As we all know, we have seen a large run-up in housing prices over the last 5 years on Long Island. Have prices peaked for the short-term ? Will we see a correction in housing prices in the short-term ? If so, how much of a correction will we see ? Unfortunately, if I owned that magical Crystal Ball, and had such information at my disposal, I would be a very, very wealthy man !! However, there are some educated guesses that we can make based on history, and as such, logic that can be applied to our housing market decisions:
Historically, over the long-term since World War II, the housing market has appreciated 5 % annually, year over year.
On Long Island, housing has appreciated at an average rate of 12.5 % over each of the last 5 years.
There have been many short-term housing dips year-over-year, since World War II.
If you are looking to buy a home and sell it within a couple of years, there is some inherent risk, in that your home could theoretically be worth less at the end of this period, due to a correction occurring.
If you are looking to buy a home and hold it for 5 or more years, you are minimizing the risk of any potential housing correction during that period, and your chances for equity gain are increased substantially.
Like the stock market, it is extremely hard to predict peaks and valleys in the housing market, and to time your buying and selling of a home at these points. A buy-and-long-term-hold strategy invariably results in positive equity gain over the long-term.
When a housing correction occurs, the more speculative homes (e.g., fix-me-uppers) tend to be adversely effected more by the correction, than non-speculative homes.
Historically low interest rates provide us with much greater (and cheaper) buying power. Future interest rate increases may result in lower housing prices, but the cost of borrowing would increase as well, which would result in higher mortgage payments, which may negate (or offset) any decrease in housing prices.
If you are looking to live in your home for many years to come, home ownership is definitely the way to go. Equity build-up, the tax advantages associated with home ownership (ability to deduct mortgage interest and property taxes), and the tangible aspect of owning your own home, are the major advantages to home ownership.
SHOULD I OWN OR SHOULD I RENT ?
I routinely get asked by customers if it makes more sense to rent or own. My short answer, is that it is always better to own, rather than rent. Renting does have several advantages:
Renting usually does not require you to be responsible for any home maintenance, unless you are responsible for damages that may have occurred.
If you believe that you will only be in a given locale for a short period of time (maybe a couple of years or less), renting affords you the ability to pay-as-you-go for this duration, with no responsiblity of selling your home. Although many landlords require a lease of some form, renting is convenient for transient people.
The benefits of home ownership far outweigh the benefits of renting:
Build-up of home equity, due to appreciating housing prices. For example, housing has increased over 60 % on Long Island in the last 5 years. Compare that to renters of equal duration, who have accumulated zero equity during that period.
Home ownership affords you huge tax deductions with deductibility of mortgage and property tax payments.
Home ownership usually affords you more privacy.
Equity build-up in home appreciation can be tapped via a home equity loan, or through sale of the home.
For married couples, the first $ 500,000 of profit from the sale of primary residences are not taxable. For single people, that number is still high - $ 250,000.
My real estate website, Doug Hayman's Real Estate Helper Website, has a new link on it - a financial calculator that shows you if it is more advantageous to rent or own, given your financial parameters (it can be utilized by clicking on the "Renting vs. Owning Calc" link on my website menu. It can also be found on Yahoo directly at the Please visit this great tool, to see explicitly how much money you are foregoing, by renting. The numbers you see will definitely amaze you !
FIND THAT PERFECT DREAM HOME
As a Licensed Real Estate Agent in Miller Place, I can now offer my friends and neighbors a Special Service -- "Find that Perfect Dream Home On-Line". Simply click on the "Find your perfect dream home on-line" link on my personal Real Estate website (http://www.expss.com/RealEstate.htm) and fill out the requisite information, or alternatively reply to this Email with the following information:
Your Name
Your Email Address
Your Telephone Number (optionally)
Your Maximuum home purchase price
Your desired # of minimum bedrooms
Your desired # of minimum bathrooms
Your minimum lot size requirements
The list of towns that you are interested in
And any other special requirements that you may have
After receiving this information, I will automatically set up a FREE Prospect Match for you in the MLS Stratus database system. On a nightly basis, all homes that match your specific criteria will be Emailed to you, with full descriptions (much more detailed than what's available elsewhere on the Internet - e.g., MLSLI.COM) and pictures. That way, you can investigate the property, to see if it is to your liking before actually having me show it to you. When you see something you like on the Internet, then just give me a call, and I will be happy to show it to you ! It won't cost you any more to call me, since real estate commissions are paid directly by the seller, and are always split between any real estate agents involved. Now what better way is there to shop for that perfect dream home, than to do it on-line, in the privacy of your own home !
I must say, that my current Customer base absolutely loves this feature. They have found it to be extremely flexible, detailed, and convenient, to say the least. I have helped several of my customers land home purchases, as a direct result of this extremely focused technology. Those who don't have computers, or who aren't on the Internet, truly don't know what they are missing.
REAL ESTATE SERVICES AND WEB SITE
To showcase more of my services, I have designed a free Internet web site (http://www.expss.com/RealEstate.htm) which contains a wealth of valuable Real Estate information that you can utilize at any time, whether you are a buyer, a seller, or are just interested in Real Estate. I strongly recommend that each of you view it and utilize its capabilities.

Additionally, I offer a free CMA (Comparative Market Analysis) service to determine what your home is currently worth in today's market, if you are considering to sell. If you are contemplating purchasing a home, please contact me, and I'll make sure I disseminate information to you about the areas that you are considering.
Should you or anyone that you know require my Real Estate services, please do not hesitate to contact me at any time, by telephone or via Email. I look forward to serving your for all of your Real Estate needs this Spring and beyond.


Best Regards,

Douglas R. Hayman
Licensed Real Estate Agent
Century 21 Rustic Realty
765 Route 25A
Miller Place, NY 11764
Work: 631-744-5300 x213
Fax: 631-744-5403
Cell: 631-902-1478
Email:
Web: http://www.expss.com/RealEstate.htm

P.S. Reciprocally, please do not hesitate to send or email me your business card for referrals.

--------------------------------------------------------------------------------------------------------------------------------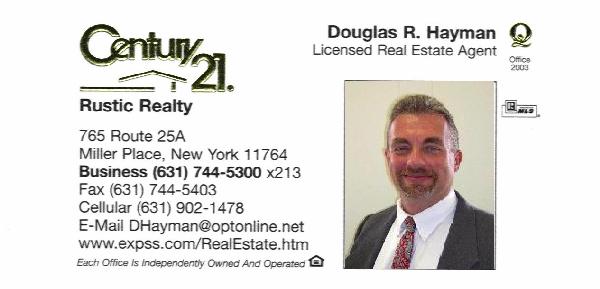 NOTE:

IN COMPLIANCE WITH THE CAN-SPAM ACT OF 2003, IF YOU WOULD LIKE TO BE REMOVED FROM THIS MAILING LIST IMMEDIATELY, PLEASE REPLY TO THIS EMAIL (I.E., TO DHAYMAN@OPTONLINE.NET), AND INDICATE IN EITHER THE EMAIL SUBJECT LINE OR THE BODY OF THE EMAIL MESSAGE THAT YOU WISH TO BE REMOVED.