Dear Friend/Neighbor,



This is Doug Hayman's November, 2004,

Real Estate Newsletter Edition:
FIND THAT PERFECT DREAM HOME
As a Licensed Real Estate Agent in Miller Place, I can now offer my friends and neighbors a Special New Service -- "Find that Perfect Dream Home On-Line". Simply click on the "Find your perfect dream home on-line" link on my personal Real Estate website (www.expss.com/RealEstate.htm) and fill out the requisite information, or alternatively reply to this Email with the following information:
Your Name
Your Email Address
Your Telephone Number (optionally)
Your Maximuum home purchase price
Your desired # of minimum bedrooms
Your desired # of minimum bathrooms
Your minimum lot size requirements
The list of towns that you are interested in
And any other special requirements that you may have
After receiving this information, I will automatically set up a FREE Prospect Match for you in the MLS Stratus database system. On a nightly basis, all homes that match your specific criteria will be Emailed to you, with full descriptions, pictures, and full address (YES, that's right, the full mailing address of the property). That way, you can investigate the property, to see if it is to your liking before actually having me show it to you. When you see something you like on the Internet or via drive-by, then just give me a call, and I will be happy to show it to you ! It won't cost you any more to call me, since real estate commissions are paid directly by the seller, and are always split between any real estate agents involved. Now what better way is there to shop for that perfect dream home, than to do it on-line, in the privacy of your own home !
NEW LISTING IN IDLE HOUR (OAKDALE)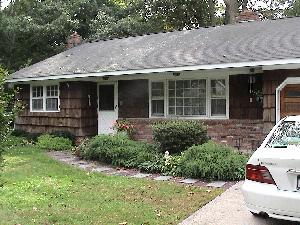 I am proud to advertise this great new listing of mine, in the prestigious Idle Hour community of Oakdale, NY, located south of Montauk Highway. This delightfully charming 3 Bedroom ranch, has newly painted cedar shake and interior, with a 2 year old roof, and is extremely well-maintained. It is on a private 1/4 acre lot, with a large living room with beautiful fireplace, and has a large deck with a waterview. It also has hardwood floors throughout. It is listed at a very competetive price of $ 489,900. Click this link to see the full MLS description, along with additional photos. Please note that there will be a public Open House for this home, on Sunday, 11/14/2004, between 12-4 PM. Call me or email me at my contact numbers below, to get further information on this great home and the Open House that I am having for it !
ADDITIONAL OUTSTANDING REAL ESTATE SERVICES
To showcase more of my services, I have designed a free Internet web site (see web address below) which contains a wealth of valuable Real Estate information that you can utilize at any time, whether you are a buyer, a seller, or are just interested in Real Estate. I strongly recommend that each of you view it out and utilize its capabilities.

Additionally, I offer a free CMA (Comparative Market Analysis) service to determine what your home is currently worth in today's market.
Should you or anyone that you know require my Real Estate services, please do not hesitate to contact me at any time, by telephone or via Email. I look forward to serving all of your Real Estate needs.


Best Regards,

Douglas R. Hayman
Licensed Real Estate Agent
Century 21 Rustic Realty
765 Route 25A
Miller Place, NY 11764
Work: 631-744-5300 x213
Fax: 631-744-5403
Cell: 631-902-1478
Email: DHayman@optonline.net
Web: http://www.expss.com/RealEstate.htm

P.S. Reciprocally, please do not hesitate to send or email me your business card for referrals.

--------------------------------------------------------------------------------------------------------------------------------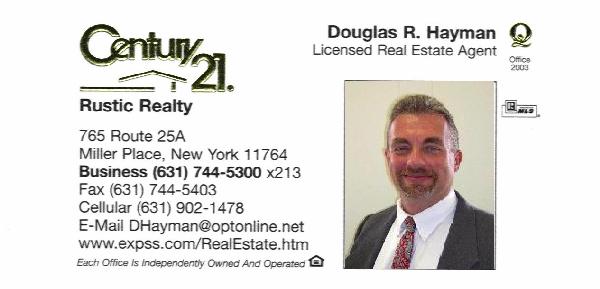 NOTE:

IN COMPLIANCE WITH THE CAN-SPAM ACT OF 2003, IF YOU WOULD LIKE TO BE REMOVED FROM THIS MAILING LIST IMMEDIATELY, PLEASE REPLY TO THIS EMAIL (I.E., TO DHAYMAN@OPTONLINE.NET), AND INDICATE IN EITHER THE EMAIL SUBJECT LINE OR THE BODY OF THE EMAIL MESSAGE THAT YOU WISH TO BE REMOVED.