Dear Friend/Neighbor/Customer,


The Spring Real Estate season is now in full swing, and activity is brisk. Interest rates remain at near-historic lows, and the market remains quite healthy. Experts are forecasting a repeat of the 2004 real estate season - with single family home appreciation expected to reach approximately 10 % in 2005.
This is Doug Hayman's May, 2005,

Real Estate Newsletter Edition.
In this Issue:
Do I need to Sell my Existing Home First, Before Buying a New One ?
The Great Mystery Behind Closing Costs Revealed (Repeated)
Find That Perfect Dream Home
Real Estate Services and Web Site
DO I NEED TO SELL MY EXISTING HOME FIRST, BEFORE BUYING A NEW ONE ?
The simple answer to this question is YES. The complex answer is IT DEPENDS.
In today's Seller's Market, a seller rarely will accept an offer from a buyer, who has yet to "sell" their own home first (by "sell" we mean that the house is in Full Contract). The reason for this is simple. By accepting an offer in this scenario, the seller is gambling that the buyer will be able to sell his/her home in a reasonable timeframe. By entering into a contract with the buyer under this scenario (where the buyer will have the sale of his/her home as a condition to the deal), the seller is effectively taking his/her home off the market, thus losing any other potential buyers during this period. If the buyer is unable to sell his/her home OR has a change of heart and decides to not sell their home, the entire deal will fall through, and the seller will be left holding the bag - i.e., they will still have their home to sell, and they will have lost several months of time, losing other potential buyers during this time. Hence, most sellers in this market will only enter into contract with a buyer who has sold their home first.
If the buyer does not need the equity from his/her existing home to finance the purchase of a home, then the rules above will not apply. The seller will gladly enter into a contract with a qualified buyer that has other available funds to purchase their home.
There are rare occassions where Sellers will be willing to enter into a contract with a buyer that has not yet sold a home, if the Real Estate agent is involved in both ends of the deal; and thus has major incentive to ensure that both ends of the deal consummate. Further, on rare occassion, a buyer can obtain a "Bridge Loan" committment from a lender, such that if the buyer's home is not sold prior to the purchase of the subsequent home, the bridge loan (or short-term interim loan) granted by the bank covers the purchase of the home, and the buyer has additional time to sell his/her home. Naturally, the buyer will need to find a lender that will be willing to issue this Bridge Loan, under this scenario. This is definitely an exception to the rule in the current Seller's market climate, but is sometimes (albeit, rarely) an avenue for consummating a deal.
Should the real estate market change in the future to be a Buyer's market, the above scenario will not necessarily apply. Due to decreased demand for housing in a Buyer's market, a seller may be more flexible, and be willing to accept a deal with a buyer who has yet to sell his/her home.
THE GREAT MYSTERY BEHIND CLOSING COSTS REVEALED (REPEATED)
Due to popular demand, here's a reprint of the article that appeared in my March, 2005 Newsletter:
Whenever you purchase or sell a home, both the buyer and seller will incur closing costs, most of which are paid for at closing. My detailed Real Estate website, has a page that I assembled, that details ALL closing costs that can be expected to be paid by Buyers and Sellers alike.
Please click on my "Closing Cost Checklist" link on my website menu, and you will see a detailed enumeration of all the types of closing costs that are involved from a Buyer's or Seller's standpoint. As a general rule of thumb, Buyers will pay between 5% - 8% of their mortgaged amount (loan) in closing costs. This is a general approximation here in NY, but should provide a general clue as to how much money a Buyer will need to close a deal (over and above the downpayment). Please visit my website and learn about the various types of closing costs including:
Appraisal Fees
Mortgage Tax
Attorney Fees
Recording Fees
Title Insurance
Mortgage or Loan Origination Fees
Points
Tax/Insurance Reserve (Escrow)
Credit Report Fees
Survey Fees
Proration
Lender Inspection Fees
Flood Certificates
Pest Inspections
Engineer Inspections
Broker Commissions
Transfer Tax
FIND THAT PERFECT DREAM HOME
As a Licensed Real Estate Agent in Miller Place, I can now offer my friends and neighbors a Special New Service -- "Find that Perfect Dream Home On-Line". Simply click on the "Find your perfect dream home on-line" link on my personal Real Estate website (www.expss.com/RealEstate.htm) and fill out the requisite information, or alternatively reply to this Email with the following information:
Your Name
Your Email Address
Your Telephone Number (optionally)
Your Maximuum home purchase price
Your desired # of minimum bedrooms
Your desired # of minimum bathrooms
Your minimum lot size requirements
The list of towns that you are interested in
And any other special requirements that you may have
After receiving this information, I will automatically set up a FREE Prospect Match for you in the MLS Stratus database system. On a nightly basis, all homes that match your specific criteria will be Emailed to you, with full descriptions (much more detailed than what's available elsewhere on the Internet - e.g., MLSLI.COM) and pictures. That way, you can investigate the property, to see if it is to your liking before actually having me show it to you. When you see something you like on the Internet, then just give me a call, and I will be happy to show it to you ! It won't cost you any more to call me, since real estate commissions are paid directly by the seller, and are always split between any real estate agents involved. Now what better way is there to shop for that perfect dream home, than to do it on-line, in the privacy of your own home !
I must say, that my current Customer base absolutely loves this feature. They have found it to be extremely flexible, detailed, and convenient, to say the least. I have helped several of my customers land home purchases, as a direct result of this extremely focused technology. Those who don't have computers, or who aren't on the Internet, truly don't know what they are missing.
REAL ESTATE SERVICES AND WEBSITE
To showcase more of my services, I have designed a free Internet web site (http://www.expss.com/RealEstate.htm) which contains a wealth of valuable Real Estate information that you can utilize at any time, whether you are a buyer, a seller, or are just interested in Real Estate. I strongly recommend that each of you view it and utilize its capabilities.

Additionally, I offer a free CMA (Comparative Market Analysis) service to determine what your home is currently worth in today's market, if you are considering to sell. If you are contemplating purchasing a home, please contact me, and I'll make sure I disseminate information to you about the areas that you are considering.
Should you or anyone that you know require my Real Estate services, please do not hesitate to contact me at any time, by telephone or via Email. I look forward to serving your for all of your Real Estate needs this Spring and beyond.


Best Regards,

Douglas R. Hayman
Licensed Real Estate Agent
Century 21 Rustic Realty
765 Route 25A
Miller Place, NY 11764
Work: 631-744-5300 x213
Fax: 631-744-5403
Cell: 631-902-1478
Email:
Web: http://www.expss.com/RealEstate.htm

P.S. Reciprocally, please do not hesitate to send or email me your business card for referrals.

--------------------------------------------------------------------------------------------------------------------------------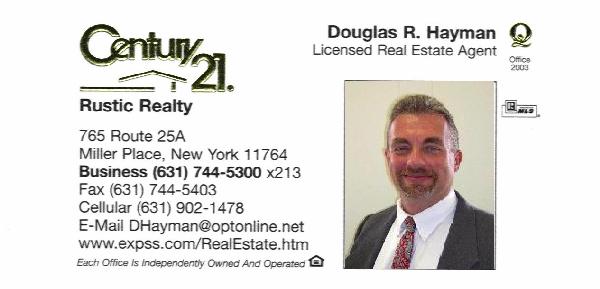 NOTE:

IN COMPLIANCE WITH THE CAN-SPAM ACT OF 2003, IF YOU WOULD LIKE TO BE REMOVED FROM THIS MAILING LIST IMMEDIATELY, PLEASE REPLY TO THIS EMAIL (I.E., TO DHAYMAN@OPTONLINE.NET), AND INDICATE IN EITHER THE EMAIL SUBJECT LINE OR THE BODY OF THE EMAIL MESSAGE THAT YOU WISH TO BE REMOVED.