Dear Friend/Neighbor/Customer,


Despite the recent frigid weather, Spring is right around the corner, and the prime-time Real Estate season will soon be upon us. Interest rates have remained extremely cooperative, rising at miniscule levels over last year. This bodes well for the Real Estate market in general, and we are looking for the 2005 Real Estate year to be as healthy a year as 2004 was.
This is Doug Hayman's March, 2005,

Real Estate Newsletter Edition.
In this Issue:
The Great Mystery Behind Closing Costs Exposed
How Much House Can I Afford ?
Find That Perfect Dream Home
Listing in North Miller Place ($ 399,999)
Real Estate Services and Web Site
THE GREAT MYSTERY BEHIND CLOSING COSTS EXPOSED
Whenever you purchase or sell a home, both the buyer and seller will incur closing costs, most of which are paid for at closing. My detailed Real Estate website, has a page that I assembled, that details ALL closing costs that can be expected to be paid by Buyers and Sellers alike.
Please click on my "Closing Cost Checklist" link on my website menu, and you will see a detailed enumeration of all the types of closing costs that are involved from a Buyer's or Seller's standpoint. As a general rule of thumb, Buyers will pay between 5% - 8% of their mortgaged amount (loan) in closing costs. This is a general approximation here in NY, but should provide a general clue as to how much money a Buyer will need to close a deal (over and above the downpayment). Please visit my website and learn about the various types of closing costs including:
Appraisal Fees
Mortgage Tax
Attorney Fees
Recording Fees
Title Insurance
Mortgage or Loan Origination Fees
Points
Tax/Insurance Reserve (Escrow)
Credit Report Fees
Survey Fees
Proration
Lender Inspection Fees
Flood Certificates
Pest Inspections
Engineer Inspections
Broker Commissions
Transfer Tax
HOW MUCH HOUSE CAN I AFFORD ?
I constantly get calls from perspective Buyers who say they are looking for a house with a stated maximum purchase price. When I query them as to how they derived this maximum purchase price, many of them have no idea. Some of the responses I get are "well, that seems to be the average home price, and I figured I could afford the average", or "well, Fred afforded a house that expensive, and I have to have more money in the bank than him", and the list goes on.
The process for calculating how much house that you can afford is actually very clear cut, and is quantitative in nature. It is a function of the following:
Your family's combined Gross Income
Your family's Monthly Debt Payments (car payments, student loans, etc.)
Current Mortgage Rates
Term of the Mortgage applied for
Estimated Closing Costs
Property Tax Rates
Hazard Insurance Rates
Private Mortgage Insurance (PMI)
Housing Expense-to-Income Ratio
Long-term Debt-to-Income Ratio
Credit (FICO) scores
You can visit my Real Estate Website, and chose one of 2 "Home Affordability Calculators" (both are accessible via links on my menu), and you can calculate with a great degree of accuracy, the amount of home you can purchase, from the privacy of your own home. You will need to fill in the values of some of the parameters specified above, in order to perform this calculation.
Alternatively, if you are intimidated by having to enter these values (perhaps, you are unsure of what it is that is required here), you can also obtain your Maximum House Purchase Price, by providing this information to the mortgage broker or mortgage banker of your choice. He/she will be glad to "pre-qualify" you, and provide you with a written letter stating the amount that you can purchase at today's interest rates, given your financial situation and credit history. Many sellers in today "Seller's Market" require a pre-qualification letter for any Buyers that make offers on a home, and many will not consider any offers without it.
If you do not have a mortgage banker or mortgage broker that you deal with, feel free to use Century 21's FREE Mortgage Financing service (1-888-601-8995). If you tell them that you are working with me, they will provide you with a Credit Check and a Pre-qualification usually within 1-2 hours. I am not affiliated with this company directly and do not receive any referral commissions, but they are under the umbrella of the Century 21 family, and I highly recommend using them. Once again, the cost for this service is FREE.
FIND THAT PERFECT DREAM HOME
As a Licensed Real Estate Agent in Miller Place, I can now offer my friends and neighbors a Special New Service -- "Find that Perfect Dream Home On-Line". Simply click on the "Find your perfect dream home on-line" link on my personal Real Estate website (www.expss.com/RealEstate.htm) and fill out the requisite information, or alternatively reply to this Email with the following information:
Your Name
Your Email Address
Your Telephone Number (optionally)
Your Maximuum home purchase price
Your desired # of minimum bedrooms
Your desired # of minimum bathrooms
Your minimum lot size requirements
The list of towns that you are interested in
And any other special requirements that you may have
After receiving this information, I will automatically set up a FREE Prospect Match for you in the MLS Stratus database system. On a nightly basis, all homes that match your specific criteria will be Emailed to you, with full descriptions (much more detailed than what's available elsewhere on the Internet - e.g., MLSLI.COM) and pictures. That way, you can investigate the property, to see if it is to your liking before actually having me show it to you. When you see something you like on the Internet, then just give me a call, and I will be happy to show it to you ! It won't cost you any more to call me, since real estate commissions are paid directly by the seller, and are always split between any real estate agents involved. Now what better way is there to shop for that perfect dream home, than to do it on-line, in the privacy of your own home !
I must say, that my current Customer base absolutely loves this feature. They have found it to be extremely flexible, detailed, and convenient, to say the least. I have helped several of my customers land home purchases, as a direct result of this extremely focused technology. Those who don't have computers, or who aren't on the Internet, truly don't know what they are missing.
LISTING IN NORTH MILLER PLACE ($ 399,999)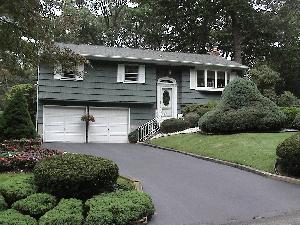 This fairly new listing of mine is back on the market as of 2/28/05, as all existing binders are off. This immaculate 3 Bedroom, 1.5 Bath Hi Ranch, is located in the highly desirable Marbeth Estates section of Miller Place. It has park-like landscaping, that has been incredibly manicured. The house has new Andersen windows in the dining room and living room, and has a new roof. Additionally, the home has a beautiful den with fireplace, that is truly rustic and cozy. The kitchen has Cherry cabinets and the master bathroom has a China sink and skylight. The backyard deck overlooks an extremely private yard. Most importantly, the home is priced to sell at $ 399,999. It is located north of Route 25A, and just south of North Country Road, in an exceptionally rustic, quiet neighborhood. I suggest to bring offers quickly, because this one won't last ! Click this link to see the full MLS description, along with additional photos.
REAL ESTATE SERVICES AND WEBSITE
To showcase more of my services, I have designed a free Internet web site (http://www.expss.com/RealEstate.htm) which contains a wealth of valuable Real Estate information that you can utilize at any time, whether you are a buyer, a seller, or are just interested in Real Estate. I strongly recommend that each of you view it and utilize its capabilities.

Additionally, I offer a free CMA (Comparative Market Analysis) service to determine what your home is currently worth in today's market, if you are considering to sell. If you are contemplating purchasing a home, please contact me, and I'll make sure I disseminate information to you about the areas that you are considering.
Should you or anyone that you know require my Real Estate services, please do not hesitate to contact me at any time, by telephone or via Email. I look forward to serving your for all of your Real Estate needs this Spring and beyond.


Best Regards,

Douglas R. Hayman
Licensed Real Estate Agent
Century 21 Rustic Realty
765 Route 25A
Miller Place, NY 11764
Work: 631-744-5300 x213
Fax: 631-744-5403
Cell: 631-902-1478
Email:
Web: http://www.expss.com/RealEstate.htm

P.S. Reciprocally, please do not hesitate to send or email me your business card for referrals.

--------------------------------------------------------------------------------------------------------------------------------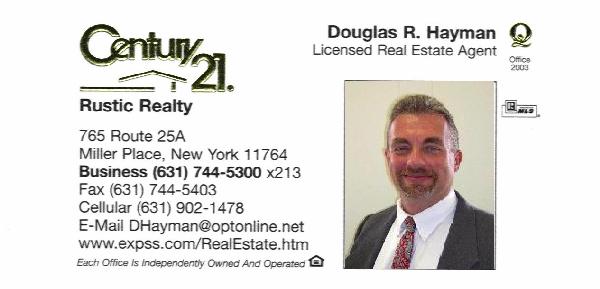 NOTE:

IN COMPLIANCE WITH THE CAN-SPAM ACT OF 2003, IF YOU WOULD LIKE TO BE REMOVED FROM THIS MAILING LIST IMMEDIATELY, PLEASE REPLY TO THIS EMAIL (I.E., TO DHAYMAN@OPTONLINE.NET), AND INDICATE IN EITHER THE EMAIL SUBJECT LINE OR THE BODY OF THE EMAIL MESSAGE THAT YOU WISH TO BE REMOVED.