Dear Friend/Neighbor/Customer,


Happy New Year to you !
We are now heading towards our Spring Real Estate season, and home buyers, home sellers, and investors are all being cautious about the Real Estate market as we head into 2006. We have seen tremendous appreciation of our local real estate market over the last 5-6 years, so where are we headed next ? To be truthful, the jury is still out on this. The press has recently been touting an overblown market, but there are still some serious counter-reasons that indicate that this bull market may continue upward.
This is Doug Hayman's January, 2006

Real Estate Newsletter Edition.
In this Issue:
Where is the Real Estate Market Headed ?
Get your FREE annual Credit Report
An Interesting Mortgage Program for 1st-Time Homebuyers
New Listing in Mount Sinai ($ 495,000)
Find That Perfect Dream Home
Real Estate Services and Web Site
WHERE IS THE REAL ESTATE MARKED HEADED ?
One cannot help hearing all the talk about a housing bubble burst, in the news these days. As we all know, we have seen a large run-up in housing prices over the last 5-6 years on Long Island. Have prices peaked for the short-term ? Will we see a correction in housing prices in the short-term ? If so, how much of a correction will we see ? Unfortunately, if I owned that magical Crystal Ball, and had such information at my disposal, I would be a very, very wealthy man !! However, there are some educated guesses that we can make based on history, and as such, logic that can be applied to our housing market decisions:
The big determining factor will inevitably be the direction that Interest Rates take, as we move forward. The new FED chairman-to-be, Ben Bernanke, is said to be slightly more tolerant of rising inflation than Alan Greenspan has been, and this may be a sign that the continued short-term Interest Rate hikes may abate. This would certainly be a boon (or at least a non-negative sign) for the real estate market. If rates continue to rise, this can have an adverse effect on housing prices (naturally), BUT this will also mean that buyers have less purchasing power, buyers will be able to mortgage less, and the cost per dollar mortgaged will increase. So, an upward bias in Interest Rates isn't necessarily a good thing for buyers - falling (and hence, cheaper) home prices will be offset by increased mortgage costs. This is an important thing to remember. Hence, waiting for prices to "fall" before purchasing, may not be the most prudent tactic moving forward.
Here are some reasons supporting the hypothesis that the market has peaked:
Sustained annual growth of 12+ % over the last 5-6 years. Can this torrid pace continue ?
Current supply of homes on the market is higher than in past years.
Fear of FED policy of continued interest rate hikes.
Here are some reasons supporting the idea that the market will continue upward:
Interest rates are still at historic lows, providing buyers with optimal purchasing power.
There is a demographic shift from west to east going on - i.e., from NYC and Nassau County to Suffolk County. This is due to the fact that you can purchase more house for the money in Suffolk County. This shift eastward could mean a continued strong market in Suffolk County for this upcoming year and beyond.
As stated above, the new FED Chairman bias, may be to react less abruptly to inflationary pressures, thus being Interest Rate-friendly.
Some buyers are looking to purchase a home, before any significant rate hike occurs. This creates demand.
Additionally, here are some additional points that may assist you in deciding if it's the right time to buy or sell:
Historically, over the long-term since World War II, the housing market has appreciated 5 % annually, year over year.
On Long Island, housing has appreciated at an average rate of 12.5 % over each of the last 5-6 years.
There have been many short-term housing dips year-over-year, since World War II.
If you are looking to buy a home and sell it within a couple of years, there is some inherent risk, in that your home could theoretically be worth less at the end of this period, due to a correction occurring.
If you are looking to buy a home and hold it for 5 or more years, you are minimizing the risk of any potential housing correction during that period, and your chances for equity gain are increased substantially.
Like the stock market, it is extremely hard to predict peaks and valleys in the housing market, and to time your buying and selling of a home at these points. A buy-and-long-term-hold strategy invariably results in positive equity gain over the long-term.
When a housing correction occurs, the more speculative homes (e.g., fix-me-uppers) tend to be adversely effected more by the correction, than non-speculative homes.
Historically low interest rates provide us with much greater (and cheaper) buying power. Future interest rate increases may result in lower housing prices, but the cost of borrowing would increase as well, which would result in higher mortgage payments, which may negate (or offset) any decrease in housing prices.
If you are looking to live in your home for many years to come, home ownership is definitely the way to go. Equity build-up, the tax advantages associated with home ownership (ability to deduct mortgage interest and property taxes), and the tangible aspect of owning your own home, are the major advantages to home ownership. Specifically, renters sometimes do not realize that they are paying top tax dollar to the Government, when they have no housing deductions. Owning a home, and having a healthy tax deduction, factors heavily into the equation of the advantages of home ownership versus renting. Even at today's high home prices, the tax advantages of home ownership are plentiful and advantageous.
GET YOUR FREE ANNUAL CREDIT REPORT
You can now get a FREE annual Credit Report, from each of the 3 big Credit bureaus. By calling the toll-free telephone number of 1-877-322-8228, you can make the request to receive a free report from Equifax, Experian, and Trans Union. You can do this once every 12 months.
Alternatively, you can make the request by U.S. mail, by sending in a request form (obtained by visiting the website www.ftc.gov/credit, and mailing the filled-out form to:
Credit Report Request Service
P.O. Box 105281
Atlanta, GA 30348-5281

Finally, you can also obtain these 3 free credit reports online, by visiting the following website:
AN INTERESTING MORTGAGE PROGRAM FOR 1ST-TIME HOME BUYERS
Here is an interesting mortgage program for 1st-time home buyers, that has recently been advertised. Please check with your mortgage broker or bank, to see if such a program (or variant) is available to you:
Flexible 100 and Flexible 97 plans - Flexible 100 and Flexible 97 plans are perfect for home buyers who do not have enough money for a downpayment, who want to set aside some of their savings for move-in expenses, or who are getting a downpayment loan from a relative. These products are avaialble to buyers at any income limit. With a Flexible 100 mortgage, buyers do not need a downpayment and can provide just $ 500 from their own funds for closing costs. With a Flexible 97 mortgage, the 3-percent downpayment can come completely from other sources such as gifts, grants, loans from relatives, or nonprofit groups or employer-assisted housing.
NEW LISTING IN MOUNT SINAI ($ 495,000)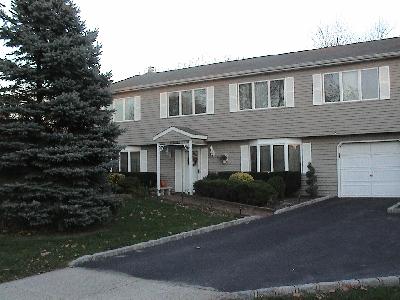 This new listing of mine in Mount Sinai, is an exquisite Imperial Gardens Colonial. It is situated on a private 1/2+ Acre on a corner lot in a quiet, residential community. It includes a rustic Den with built-In bookshelves and a fireplace, has large and tastefully deocrated living room and formal dining rooms, has a huge master suite with an additional nursery/den/office and Jacuzzi, a large 22 x 40 in-ground pool, 2 decks, and Anderson windows throughout the home. Furthermore, the house has 4 oversized bedrooms that are a real plus for families. A true Must See !
The full MLS listing can be viewed at:
Further, if you would like to see a complete Slideshow presentation of this house (with a great musical background), please visit the following website, and click on the "Slideshow" link on this page:
Mount Sinai Colonial Slideshow Presentation
I suggest to bring offers quickly, because this one won't last ! It's a great buy in today's market !
FIND THAT PERFECT DREAM HOME
As a Licensed Real Estate Agent in Miller Place, I can now offer my friends and neighbors a Special Service -- "Find that Perfect Dream Home On-Line". Simply click on the "Find your perfect dream home on-line" link on my personal Real Estate website (http://www.expss.com/RealEstate.htm) and fill out the requisite information, or alternatively reply to this Email with the following information:
Your Name
Your Email Address
Your Telephone Number (optionally)
Your Maximuum home purchase price
Your desired # of minimum bedrooms
Your desired # of minimum bathrooms
Your minimum lot size requirements
The list of towns that you are interested in
And any other special requirements that you may have
After receiving this information, I will automatically set up a FREE Prospect Match for you in the MLS Stratus database system. On a nightly basis, all homes that match your specific criteria will be Emailed to you, with full descriptions (much more detailed than what's available elsewhere on the Internet - e.g., MLSLI.COM) and pictures. That way, you can investigate the property, to see if it is to your liking before actually having me show it to you. When you see something you like on the Internet, then just give me a call, and I will be happy to show it to you ! It won't cost you any more to call me, since real estate commissions are paid directly by the seller, and are always split between any real estate agents involved. Now what better way is there to shop for that perfect dream home, than to do it on-line, in the privacy of your own home !
I must say, that my current Customer base absolutely loves this feature. They have found it to be extremely flexible, detailed, and convenient, to say the least. I have helped several of my customers land home purchases, as a direct result of this extremely focused technology. Those who don't have computers, or who aren't on the Internet, truly don't know what they are missing.
REAL ESTATE SERVICES AND WEB SITE
To showcase more of my services, I have designed a free Internet web site (http://www.expss.com/RealEstate.htm) which contains a wealth of valuable Real Estate information that you can utilize at any time, whether you are a buyer, a seller, or are just interested in Real Estate. I strongly recommend that each of you view it and utilize its capabilities.

Additionally, I offer a free CMA (Comparative Market Analysis) service to determine what your home is currently worth in today's market, if you are considering to sell. If you are contemplating purchasing a home, please contact me, and I'll make sure I disseminate information to you about the areas that you are considering.
Should you or anyone that you know require my Real Estate services, please do not hesitate to contact me at any time, by telephone or via Email. I look forward to serving your for all of your Real Estate needs this Spring and beyond.


Best Regards,

Douglas R. Hayman
NYS Licensed Real Estate Agent
Century 21 Rustic Realty
765 Route 25A
Miller Place, NY 11764
Work: 631-744-5300 x213
Fax: 631-744-5403
Cell: 631-902-1478
Email:
Web: http://www.expss.com/RealEstate.htm

P.S. Reciprocally, please do not hesitate to send or email me your business card for referrals.

--------------------------------------------------------------------------------------------------------------------------------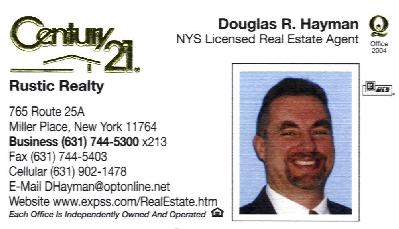 NOTE:

IN COMPLIANCE WITH THE CAN-SPAM ACT OF 2003, IF YOU WOULD LIKE TO BE REMOVED FROM THIS MAILING LIST IMMEDIATELY, PLEASE CLICK HERE.