Dear Friend/Neighbor/Customer,


Happy New Year to you !! I wish you a safe, healthy, and prosperous 2005 !
I can't believe how fast 2004 went by. Now, it is time to turn the page on 2004, and look forward to 2005. I must say, 2005 is shaping up to be an exciting year in Real Estate.
This is Doug Hayman's January, 2005,

Real Estate Newsletter Edition.
In this Issue:
Interest Rates Slowly on the Rise
Are you reducing your taxes via STAR ?
Find That Perfect Dream Home
New listing in Miller Place ($ 399,999)
Oakdale Listing in Idle Hour ($ 489,000)
Real Estate Services and Web Site
INTEREST RATES SLOWLY ON THE RISE
In recent months, the FED has begun raising some key interest rates to help counter the inflation that has surfaced from increased economic productivity in the U.S. economy. Despite these well-orchestrated interest rate hikes, mortgage rates have remained relatively low (that is, they have not kept pace with these increases to date). What does this all mean to the home buyer/home seller in today's market, you might ask ? Well, there are no definitive, clear-cut crystal ball answers. Interest rates still remain very low from a historical perspective, and thus are still giving home buyers a tremendous amount of purchasing power. If we were to see a precipitous rise in interest rates in 2005, the amount of purchasing power for a home buyer would reduce significantly. Of course, such an interest rate rise, could possibly result in home prices decreasing on Long Island as well. After a slowing of real estate activity over the last 2 months of 2004, home prices have seemed to stabilize for the moment.
The key to future real estate pricing will be Interest Rates. If you are looking to either purchase or sell in 2005, you should certainly keep abreast of the key Interest Rate indicators (namely, the 10 year, 15 year, and 30 year Notes and Bond rates ---- these are what equivalent duration mortgage rates are tied to).
ARE YOU REDUCING YOUR TAXES VIA STAR ?
STAR is Governor George E. Pataki's School Tax Relief Program that provides a partial exemption from school property taxes. All New Yorkers who own and live in their one-, two-, or three-family home, condominium, cooperative apartment, manufactured home, or farm dwelling are eligible for a STAR exemption on their PRIMARY residence only.
There are two parts to the STAR program:
The Basic STAR exemption is available for owner-occupied, primary residences regardless of the owners' ages or incomes. Basic STAR works by exempting the first $30,000 of the full value of a home from school taxes.
The Enhanced STAR exemption is available for the primary residences of senior citizens (age 65 and older) with yearly household incomes not exceeding the statewide standard. For qualifying senior citizens, the Enhanced STAR program works by exempting the first $50,000 of the full value of their home from school property taxes. For property owned by a husband and wife, or by siblings, only one of them must be at least 65 years of age as of December 31 of the year in which the exemption will begin to qualify for the Enhanced exemption. Their combined annual income, however, must not exceed the STAR income standard.
You must file an application with your local assessor. Property owners who are granted the Basic STAR exemption generally will not need to reapply in subsequent years because the Basic STAR exemption is granted regardless of income. However, Basic STAR recipients will need to notify their assessor if their primary residence changes.
STAR applications are available from your local assessor or on the internet at http://www.orps.state.ny.us/star/star_forms.cfm
New York State does NOT automatically give you the STAR exemption. You must apply for it, to actually recognize the reduction in taxes !
FIND THAT PERFECT DREAM HOME
As a Licensed Real Estate Agent in Miller Place, I can now offer my friends and neighbors a Special New Service -- "Find that Perfect Dream Home On-Line". Simply click on the "Find your perfect dream home on-line" link on my personal Real Estate website (www.expss.com/RealEstate.htm) and fill out the requisite information, or alternatively reply to this Email with the following information:
Your Name
Your Email Address
Your Telephone Number (optionally)
Your Maximuum home purchase price
Your desired # of minimum bedrooms
Your desired # of minimum bathrooms
Your minimum lot size requirements
The list of towns that you are interested in
And any other special requirements that you may have
After receiving this information, I will automatically set up a FREE Prospect Match for you in the MLS Stratus database system. On a nightly basis, all homes that match your specific criteria will be Emailed to you, with full descriptions, pictures, and full address (YES, that's right, the full mailing address of the property). That way, you can investigate the property, to see if it is to your liking before actually having me show it to you. When you see something you like on the Internet or via drive-by, then just give me a call, and I will be happy to show it to you ! It won't cost you any more to call me, since real estate commissions are paid directly by the seller, and are always split between any real estate agents involved. Now what better way is there to shop for that perfect dream home, than to do it on-line, in the privacy of your own home !
I must say, that my current Customer base absolutely loves this feature. They have found it to be extremely flexible, detailed, and convenient, to say the least. Those who don't have computers, or who aren't on the Internet, truly don't know what they are missing.
NEW LISTING IN MILLER PLACE ($ 399,999)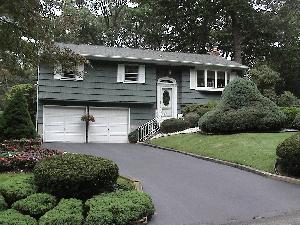 This new listing of mine is an immaculate 3 Bedroom, 1.5 Bath Hi Ranch, in the highly desirable Marbeth Estates section of Miller Place. It has park-like landscaping, that has been incredibly manicured. The house has new Andersen windows in the dining room and living room, and has a new roof. Additionally, the home has a beautiful den with fireplace, that is truly rustic and cozy. The kitchen has Cherry cabinets and the master bathroom has a China sink and skylight. The backyard deck overlooks an extremely private yard. Most importantly, the home is priced to sell at $ 399,990. I suggest to bring offers quickly, because this one won't last ! Click this link to see the full MLS description, along with additional photos.
OAKDALE LISTING IN IDLE HOUR ($ 489,000)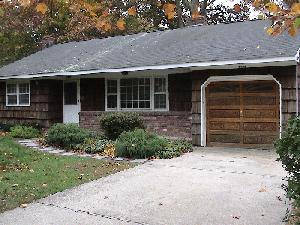 This great listing of mine, is located in the prestigious Idle Hour community of Oakdale, NY, south of Montauk Highway. This delightfully charming 3 Bedroom ranch, has newly painted cedar shake and interior, with a 2 year old roof, and is extremely well-maintained. It is on a private 1/4 acre lot, with a large living room with beautiful fireplace, and has a large deck with a boat waterview. It also has hardwood floors throughout. It has a listing price of $ 489,900. Click this link to see the full MLS description, along with additional photos.
REAL ESTATE SERVICES AND WEBSITE
To showcase more of my services, I have designed a free Internet web site (http://www.expss.com/RealEstate.htm) which contains a wealth of valuable Real Estate information that you can utilize at any time, whether you are a buyer, a seller, or are just interested in Real Estate. I strongly recommend that each of you view it and utilize its capabilities.

Additionally, I offer a free CMA (Comparative Market Analysis) service to determine what your home is currently worth in today's market, if you are considering to sell. If you are contemplating purchasing a home, please contact me, and I'll make sure I disseminate information to you about the areas that you are considering.
Should you or anyone that you know require my Real Estate services, please do not hesitate to contact me at any time, by telephone or via Email. I look forward to serving all of your Real Estate needs.


Best Regards,

Douglas R. Hayman
Licensed Real Estate Agent
Century 21 Rustic Realty
765 Route 25A
Miller Place, NY 11764
Work: 631-744-5300 x213
Fax: 631-744-5403
Cell: 631-902-1478
Email: DHayman@optonline.net
Web: http://www.expss.com/RealEstate.htm

P.S. Reciprocally, please do not hesitate to send or email me your business card for referrals.

--------------------------------------------------------------------------------------------------------------------------------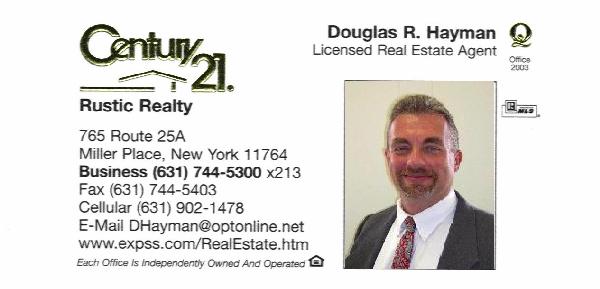 NOTE:

IN COMPLIANCE WITH THE CAN-SPAM ACT OF 2003, IF YOU WOULD LIKE TO BE REMOVED FROM THIS MAILING LIST IMMEDIATELY, PLEASE REPLY TO THIS EMAIL (I.E., TO DHAYMAN@OPTONLINE.NET), AND INDICATE IN EITHER THE EMAIL SUBJECT LINE OR THE BODY OF THE EMAIL MESSAGE THAT YOU WISH TO BE REMOVED.